Your space should work for you. Meet your needs. Spark happiness. And we've got the inside scoop on the world of design from the interior designer of The Rec Center, Jeannine Clark, IIDA.
As president of Mannigan Design, Inc., Clark has extensive experience in interior and exterior furnishings for multi-family developments, community spaces, clubhouses and senior housing. Clark also enjoys fostering dogs for various rescue organizations, and her love for nurturing often finds a place in her design work. "I want people to feel comfortable in an environment that feels like it's made for them. It's about being considerate of who's going to use the space and ensure that they have a good experience."
And she was more than happy to share the story behind the modern design of The Rec Center and which elements may be useful for your own home. "We wanted to design something that felt warm and comfortable with unique nurturing spaces. Something that felt like a welcoming home environment."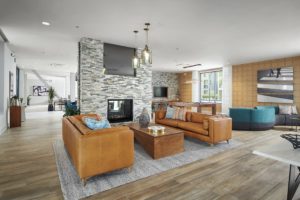 But how do you create an environment that feels like home? A couple great tactics Clark put into play when designing The Rec Center is the use of woods and warm-colored pieces and taking advantage of the natural light available. This designer claims that all-grey everything, matching furniture sets and modern minimalistic style are trends of the past.
"It's good to have your basic pieces, but you also want those unique pieces that have a story behind them, spark a little wonder and really make it feel like your own home."
Having a neutral base with quality, longstanding pieces allows for a home makeover whenever the mood strikes. Whether it's seasonal or spontaneous, pieces like pillows, rugs and artwork can so easily be changed out to transform the vibe. And with the new reality we're facing, Clark suspects a new wave of vintage trends to surge—anything bright, colorful and smile-inducing.
"I'm anticipating a lot of floral patterns, whimsical wall coverings and a tasteful number of eccentric pieces. People are going to want fun and cheerful spaces very much like the home designs of the 1920s."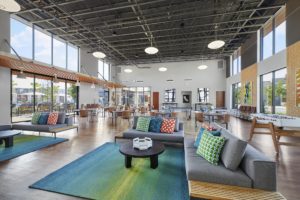 An incredible tip for those needing more space is to explore the flexibility of not only your floor plan but your furniture. The Clubhouse at The Rec Center was designed to be arranged and rearranged with pieces that are light and easy to store.
"If you need a home office by day and bedroom by night, there are ways you can achieve that in one space—whether it's with a murphy bed, futon or other multi-functional furniture options." Being able to change the function of your space on a whim is an incredible perk during a time when home is wearing more hats than ever. And you can even play with the acoustics of a room—adding rugs and hanging gorgeous tapestries to make the walls a little more sound absorbent.
Loving the interior design of The Rec Center? Try out a few of these expert design tips at home and stay tuned for more ideas and designer goodness coming soon!