"When it comes to the interior design of a condominium or townhome, you first want to think about how you can make your space function to best fit your lifestyle."
We got the chance to sit down with Kathleen Canez, Vice President of Creative Design at Pacific Dimensions, the interior design team who brought award-winning style and a unique vision to the model homes at Union and Downing by Lennar. With over two decades of experience at this woman-owned design firm, Canez is here to share her expertise on how to stylize your size-limited spaces.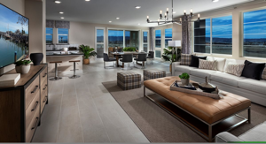 It's a common misconception that smaller spaces need smaller furniture—but we've found that's just not the case when you properly scale the amount of room you have."
Sometimes a smaller space requires more creativity to bring your vision to life. But the most important rule of thumb Canez had to offer is to measure. Even if you're not sure what style you're going for yet, having the proper dimensions gives you a starting point and a way to streamline the shopping process. And when it comes to furniture—don't be afraid to go larger, but choose pieces that can be placed against a wall or items with legs that allow light to flow not just over but under them.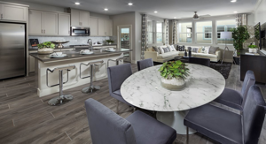 "The foolproof way to make a space feel bigger starts with the color palette. Light, neutral colors will have an airy and open effect on a room."
There's no need to veer away from fun hues or darker shades, but when it comes to the foundation of your overall color palette, the whites, creams, taupes and light greys are good spots to build from. If you want to throw in a vibrant blue or a dramatic black, play around with your decorative elements and the spacing of your pieces. Another expert tip to create the illusion of a bigger space is by adding an accent wall. Lively decals and wallpapers along with peel-and-stick wall paneling are taking a turn on this year's list of hot design trends.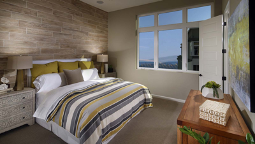 "Homebuilding has seen an unusually quick evolution with the pandemic shining a brighter light on the importance of home offices. That's not something we're going to see the end of any time soon."
Work-from-home is here to stay with remote roles and hybrid work schedules. And even though having a door you can close is ideal, it may not be possible with the space you have. If you're finding yourself with limited room to set up a work station—here's where creativity comes into play. Any surface can be used as a desk, so maybe a bigger dining table would better suit your needs than a makeshift office squeezed into the corner. Whether it's the closing cabinet door of your bar cart, a decorative basket or an ottoman with storage space—it's really about being able to put the stress of the day away to make sure you're not blurring the lines between work and home any more than you have to.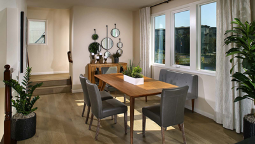 Individuality in your home isn't just about your personal style—it's also about how your design functions for your lifestyle. And there are plenty of ways you can fit your large personality into a smaller living space while also meeting your needs.