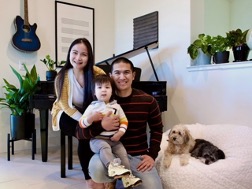 "With the luxury of more home than we've ever had, we're finally able to indulge ourselves and take advantage of our space to serve our needs while also bringing some long-time dreams to life."
Ever since Deryk and Kai moved to California, they had been long-term apartment renters in the Tri-Valley Area. Their last apartment was right across the street from the Dublin/Pleasanton BART station, which meant they had front-row seats as Boulevard grew, developed and took shape. Being a growing family with an active toddler, two fur babies and the dream of owning their own home, the brand new community across the way naturally became first on the home shopping list.
"The whole idea of a master plan with the promise of a future school, Don Biddle Community Park and pocket parks that included a dog run really made the decision for us."
Not only was the Boulevard experience enticing but also the community is in a Dublin location Deryk and Kai already knew and loved. There was no need to choose between being close to family, their work in Pleasanton or their favorite go-to conveniences like Persimmon Place and Emerald Glen Park—Boulevard checked off all the boxes.
And the floor plan they chose was the cherry on top. The open-concept living area on the main floor lets their toddler be independent while also allowing these new parents to keep a watchful eye without being attached at the hip. Plus, the extra space they have has been instrumental to bringing their home dreams to life.
"We both have wanted a baby grand piano since we were kids, and we finally have the space to do so! We've been enjoying making music and having our son be part of the whole experience."
Deryk is a video game enthusiast. Kai is an avid reader and true crime buff. They both have a zest for healthy fusion recipes and fitness. This is a couple who knows what they like, and having a home that could fit their lifestyle was one thing. But at Boulevard, they knew they could live the way they always wanted to. Their family mantra is to make the most of what you have, and that's exactly what they've done with all the extra space their new home offers.
"We've been able to invest in a home gym and also dedicate one room just to hobbies! We call it our Fun Room for video games and crafts—although it's currently being used as a home office while we work from home."
And making the most of their space will be even more fulfilling post-pandemic. Deryk and Kai are looking forward to meeting more of their neighbors, making friends within the community and taking advantage of all of Boulevard's incredible amenities once they're open and ready for enjoyment.
"We can't wait to explore The Rec Center and the various pocket parks around the community. We've lived in the Dublin area, but we're excited to see how the complete Boulevard experience will shape our new everyday here."