"Designing your home shouldn't feel like a job. It's an opportunity to bring your true vision of home to life—one that feels comfortable, familiar and like you belong there."
We got the chance to sit down with Kate Pourhassanian, COO of Unscripted Interior Design, who was willing to give us the inside story of stylizing the model homes at Broadway and Mulholland and share some expert tips for designing your own space.
Pourhassanian is part of the sister trio who each bring something unique to their thriving business that's now doing work across the country. With extensive experience in model home design and merchandising, commercial design and even residential design, these design icons have built an empire on their drive to inspire and create beyond the ordinary.
"Entering a space is an emotional reaction. Every room, nook and cranny are opportunities to tell a story. And when a piece means something to you, that energy brings something completely unique to your design."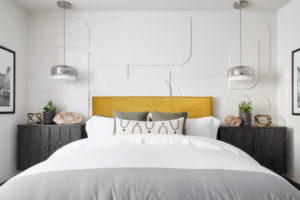 That being said—what's your story? When your space mirrors who you are, that's when you truly feel at home. Repurposing inherited furniture is a great place to start. Whether it's transforming your grandpa's old desk into two trendy nightstands or creating a French-style bench from your mother's dated dining room chairs. When you see these pieces in a new light, the sentiment is still there, but the purpose better serves your needs.
"Matching furniture is not realistic. Everyone has odd pieces and unique knickknacks. It's best to pick a standout piece that's the crown jewel of your space and do your creating around that."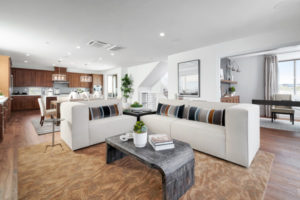 Now that you've got your repurposed furniture ready to place, don't be afraid to mix period pieces, textures and shapes. The design world is seeing the return of opulence, glam and bold colors and patterns. People want their homes to spark joy and make them smile. A word of thumb: when you have an element that speaks louder than the rest, tone down everything else in that space and focus on complementing for a tasteful take on a bold look.
"Sparking joy is one thing, but your home really is your sanctuary. You want it to feel calming and grounding and have space for relief."
When your home feels cluttered, it can send your stress levels through the roof. Keeping a clean aesthetic makes your home feel more relaxing. Use properly sized pieces that fit in your space comfortably to avoid that crammed feeling and pay attention to the balance of your design. If you have metal-focused furniture or artwork, be sure to offset with natural elements. Plus, houseplants are known to bring happiness by adding a sense of vitality and fresh energy.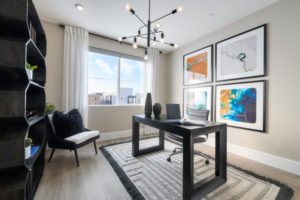 And the pandemic has redefined the importance of multi-use furniture—from wall-mounted pullout desks to ottomans with hidden storage. "Especially right now, being able to close the door to a home office or put something away is so important to differentiate family time from work time and feel as if you have a space where you can unwind."
Interior design doesn't have to be daunting—because it's about curating a space for you to live, work and thrive. And there's no one who knows what you love to see every day more than yourself. So hop into the designer's seat and try out a few of these tricks at home! Stay tuned for more ideas and designer goodness coming soon.